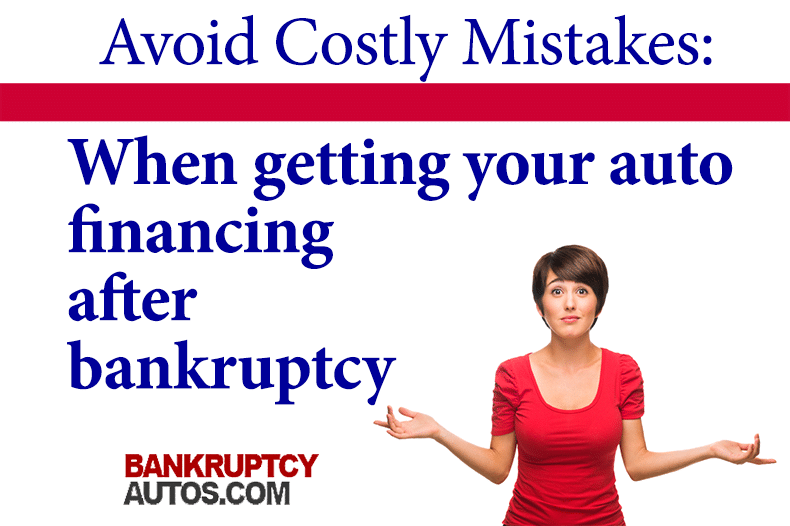 Just between you and me… I was scared and afraid after my bankruptcy!
I was desperate
I needed a car. I would have done anything and signed whatever I had to, in order to get it. I'm sure you will agree with me that when you are down and out, feeling the lowest you have ever felt in your life – you don't always think straight.
I had no idea how to go about getting auto financing after a bankruptcy.
In this article I'm going to share with you some tips and strategies that can help you get the financing and car you need.
Now listen closely
It's important to understand that you don't want to come from a place of feeling like a victim, and that you are at the mercy of the car dealership. When you go in with the attitude that you are desperate, the salesperson can sense and feel your desperation and may take advantage of you.
I'm sure what I'm sharing with you here, comes as no surprise to you, but all this common sense went out the window after my bankruptcy.
Here are the top three biggest mistakes I made and that most other people do too.
I had no plan or strategy when I walked into the dealership.
I was totally vulnerable and at the mercy of the salesperson, who had me in their power.
Now keep in mind that car dealers aren't necessarily bad people or evil.
The salesperson will pretend to be your friend and on your side, fighting against the dealerships manager in the tower or back room. (They work for the dealership and are paid to get you to say yes today.)
They are just doing their job… which is to sell you a car today on their terms. Not your terms.
My emotions were running my decision-making abilities.
The hidden truth was… the more I looked at her, the more I wanted to take her home with me.
She was so beautiful… she was every young man's dream.
She was so hot.
She captured my heart and I knew she would make me happy.
All my logic went right out the window and I was making my decisions based on wants and not needs.
Of course I'm talking about that little red Mustang sports car in the front of the lot.
Don't believe everything that you hear about credit.
Beware of all the advice coming from others like friends, car dealerships or family members. They are usually wrong.
They just don't know or understand. You want to work with someone who has filed bankruptcy and understands the pain and frustration of what you are going through.
You also want to make sure that he or she has a long (positive) history of helping others who have gone through a bankruptcy.
Someone who has gone through what you have, will understand your situation better.
Now that you know what you don't want to do, let's talk about what you can do instead to help build your FICO score and get the car you need.
Set some goals for yourself and create a plan. Remember to keep it simple.
For example…
Get a credit card.
Get a car loan.
Raise your FICO score over 600.
Make your payments on time.
Pay off any revolving debt that you may have.
Take your emotions out of the equation when you go looking for a car. Make a list of what you really need for transportation and be practical. You can always get your little red sports car later on, after you build your credit back up.
Don't believe what others are telling your about credit, unless they have gone through what you have, and they know and understand how you are feeling.
With this in mind…
In a nut shell, I have been where you are. I have gone through a bankruptcy and lost everything that I worked so hard for. I have rebuilt my credit and my life. I can show you how to do the same just like I have helped others over the years. Let's first start with getting you the car you need right now. Give me a call at 720-266-4941 or send me an email and I'll get back with your shortly.
By the way if you want to hear more about my story and bankruptcy be sure and get a copy of my free report "How To Get A Car With A Bankruptcy" by filling in your name and email address at the bottom of the page.
You can also learn more about me here…
Get Your Free eBook!
How To Get A Car With A Bankruptcy
This eBook has been endorsed by many local attorneys, as the "Go To Book" on how to get a car... even if you have a bankruptcy.